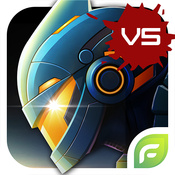 This page gives you the best items in Star Warfare: Alien Invasion, along with the most bang for your buck at different ranks for both gold and mithril. For more information on the ranks, please go to here: Ranks.
Please refer to the Optimized Equipment Configurations page for suggested armor/weapon builds. If you believe that the two pages should be merged, please contact an admin or otherwise suggest it in the comments section.
Please note that the in-game equipment stats only apply to PvE: armors have significantly lower HP in PvP in order to ensure matches do not drag out for too long. Weapon damage has also been adjusted to modify the balance of the game, so the in-game stats are not necessarily indicative of their relative effectiveness on an enemy player. The exact adjustments are currently unknown, and the PvP equipment recommendations are based on the observations of the contributors.
*Asterisks indicate equipment which is unlocked at an early rank that you likely won't be able to purchase until later unless you use IAPs or offer-farming for mithril
First Rank Level
PvE
Playstyle (PvE)
Gold
Mithril
All-Purpose
MA72
MS06
CQC (Close Quarter Combat)
Cutter
N/A
Heavy Duty
TSG-03
N/A
Long Range
N/A
N/A
Backpack
SP04-IV

*F.L.O.A.T (Speed, Power, Poison Evasion, Gold Bonus, EXP Bonus)

*X028-FREEDOM (Unlimited energy, 40 HP regen per second)

Armor
Fortune
N/A
PvP
Playstyle (PvP)
Gold
Mithril
All-Purpose
MA72
MS06
CQC (Close Quarter Combat)
Cutter
N/A
Heavy Duty
N/A
N/A
Long Range
N/A
N/A
Backpack
SP04-IV

*F.L.O.A.T (Speed, Power)

*X028-FREEDOM (Unlimited energy, 40 HP regen per second)

Armor
Fortune
N/A
Second Rank Level
PvE
Playstyle (PvE)
Gold
Mithril
All-Purpose
FR43C
MS06 (FR43C is stronger)
CQC (Close Quarter Combat)
Cutter
N/A
Heavy Duty
VOX-07 (FR43C is stronger)
N/A
Long Range
N/A
B/A
Backpack
VP-22VII

KP-101-X

*F.L.O.A.T (Speed, Power, Poison Evasion, Gold Bonus, EXP Bonus)

*X028-FREEDOM (Unlimited energy, 40 HP regen per second)

Armor
Fortune
PvP
Playstyle (PvP)
Gold
Mithril
All-Purpose
FR43C
MS06 (FR43C is stronger)
CQC (Close Quarter Combat)
Cutter
N/A
Heavy Duty
SD-58
N/A
Long Range
N/A
N/A
Backpack
VP-22VII

KP-101-X

*F.L.O.A.T (Speed, Power)

*X028-FREEDOM (Unlimited energy, 40 HP regen per second)

Armor
Fortune
N/A
Third Rank Level
PvE
Playstyle (PvE)
Gold
Mithril
All-Purpose
FL334AR
LG002B (FL334AR is significantly stronger)
CQC (Close Quarter Combat)
Cutter
WD03S
Heavy Duty
MCP76
N/A
Long Range
N/A
N/A
Backpack
ECO-03-VI

KP-101-X

*F.L.O.A.T (Speed, Power, Poison Evasion, Gold Bonus, EXP Bonus)

*X028-FREEDOM (Unlimited energy, 40 HP regen per second)

Armor

Hydra Armor (Speed)

Tank Armor (HP)

N/A
PvP
Playstyle (PvP)
Gold
Mithril
All-Purpose
MA72
LG002B (FL334AR is significantly stronger)
CQC (Close Quarter Combat)
Cutter
WD03S
Heavy Duty
M347
N/A
Long Range
N/A
N/A
Backpack
ECO-03-VI

KP-101-X

*F.L.O.A.T (Speed, Power)

*X028-FREEDOM (Unlimited energy, 40 HP regen per second)

Armor

Hydra Armor (Speed)

Tank Armor (HP)

N/A
Fourth Rank Level
PvE
Playstyle (PvE)
Gold
Mithril
All-Purpose
MS2456S
TB10-LW
CQC (Close Quarter Combat)
Cutter
Passer
Heavy Duty
MCP76
N/A
Long Range
N/A
N/A
Backpack

ECO-03-VI (Gold bonus)

BLADE-MASTER (Poison evasion)

SAM-005-I (Gold bonus)

*F.L.O.A.T (Speed, Power, Poison Evasion, EXP Bonus)

*X028-FREEDOM (Unlimited energy, 40 HP regen per second)

Armor

Hydra Armor (Speed)

Tank Armor (HP)

N/A
PvP
Playstyle (PvP)
Gold
Mithril
All-Purpose
MS2456S
TB10-LW
CQC (Close Quarter Combat)
Cutter
Passer
Heavy Duty
M347
N/A
Long Range
N/A
N/A
Backpack

TT-05-b (damage reduction)

BLADE-MASTER (Speed, Sword bonus)

KP-101-X

*F.L.O.A.T (Speed, Power, )

*X028-FREEDOM (Unlimited energy, 40 HP regen per second)

Armor

Hydra Armor (Speed)

Tank Armor (HP)

N/A
Fifth Rank Level
PvE
Playstyle (PvE)
Gold
Mithril
All-Purpose
NOVA-27

TB10-LW

(NOVA-27 is significantly stronger)

CQC (Close Quarter Combat)
Cutter
*Trinity
Heavy Duty
M-27B1
Ge09X (M-27B1 is significantly stronger)
Long Range
R100-RAILGUN
N/A
Backpack

ECO-03-VI (Gold bonus)

STK-06-ZZ (Speed/Power)

SAM-005-I (Gold bonus)

*F.L.O.A.T (Speed, Power, Poison Evasion, EXP Bonus)

*X028-FREEDOM (Unlimited energy, 40 HP regen per second)

Armor

Strike Armor (Speed/Power)

Titan Armor (HP/Recovery)

N/A
PvP
Playstyle (PvP)
Gold
Mithril
All-Purpose
NOVA-27

TB10-LW

(NOVA-27 is significantly stronger)

CQC (Close Quarter Combat)
Cutter
*Trinity
Heavy Duty
M-27B1
Ge09X
Long Range
R100-RAILGUN
N/A
Backpack
STK-06-ZZ

KP-101-X (HP regen per kill)

HYD-00-IX (HP regen per second, damage immunity chance)

*F.L.O.A.T (Speed, Power)

*X028-FREEDOM (Unlimited energy, 40 HP regen per second)

Armor

Strike Armor (Speed/Power)

Titan Armor (HP/Recovery)

N/A
Sixth Rank Level
PvE
Playstyle (PvE)
Gold
Mithril
All-Purpose
NOVA-27

TB10-LW (NOVA-27 is significantly stronger)

CQC (Close Quarter Combat)
Cutter
Trinity
Heavy Duty
M-27B1
Laser Cannon
Long Range
R100-RAILGUN
R700-AA
Backpack

ECO-03-VI (Gold bonus)

STK-06-ZZ (Speed/Power)

JIN.JINGLE (Speed, Power, Gold, EXP, 20 HP regen per kill,

10% chance to evade damage)


F.L.O.A.T (Speed, Power, Poison Evasion)


X028-FREEDOM (Unlimited energy, 40 HP regen per second)

Armor

Thunder Armor (Power/Speed)

Atom Armor (Beam bonus, HP)

N/A
PvP
Playstyle (PvP)
Gold
Mithril
All-Purpose
NOVA-27

TB10-LW (NOVA-27 is significantly stronger)

CQC (Close Quarter Combat)
Cutter
Trinity
Heavy Duty
M-27B1
Laser Cannon
Long Range
R100-RAILGUN
R700-AA
Backpack
STK-06-ZZ

TRI-O-AVATAR (heavy damage negation)

HYD-00-IX (HP regen per second, damage immunity chance)


H.F-V-03 (HP regen for team)


JIN.JINGLE (Speed, Power, HP regen per kill)

Armor

Thunder Armor (Power/Speed)

Atom Armor (Beam bonus, HP)

N/A
Seventh Rank Level
PvE
Playstyle (PvE)
Gold
Mithril
All-Purpose
Crab
LIT07
CQC (Close Quarter Combat)
Morpheus
Trinity, Windblade
Heavy Duty
M-27B1
Laser Cannon
Long Range
R100-RAILGUN
R700-AA
Backpack

ECO-03-VI (Gold bonus)

STK-06-ZZ (Speed/Power)

JIN.JINGLE (Speed, Power, Gold, EXP Bonus, 20 HP regen per kill)


X028-FREEDOM (Unlimited energy + HP regen ability)

Armor

Draco Armor (HP)

Thunder Armor (Power/Speed)


Atom Armor (Beam bonus)

Phoenix Armor (HP, Speed)


Pegasus Armor (damage immunity chance)
PvP
Playstyle (PvP)
Gold
Mithril
All-Purpose
NOVA-27
LIT07
CQC (Close Quarter Combat)
Morpheus
Trinity, Windblade
Heavy Duty
M-27B1
Laser Cannon
Long Range
R100-RAILGUN
R700-AA
Backpack
STK-06-ZZ

TRI-O-AVATAR (heavy damage negation)


HYD-00-IX (HP regen per second, damage immunity chance)


H.F-V-03 (HP regen for team)


JIN.JINGLE (Speed, Power, HP regen per kill, 10% chance to evade damage)


Spectre (15% chance to evade damage, +1.5 speed every time you get shot)

Armor

Draco Armor (HP)

Thunder Armor (Power/Speed)

Atom Armor (Beam bonus)

Phoenix Armor (Large HP regen per kill)

Pegasus Armor (damage immunity chance)
Eighth Rank Level
PvE
Playstyle (PvE)
Gold
Mithril
All-Purpose
Crab
LIT07
CQC (Close Quarter Combat)
Morpheus
Trinity, Windblade
Heavy Duty
M-27B1
Laser Cannon
Long Range
R100-RAILGUN
R700-AA
Backpack

ECO-03-VI (Gold bonus)

STK-06-ZZ (Speed/Power)

JIN.JINGLE (Speed, Power, Gold, EXP Bonus, 20 HP regen per kill, 10% chance to evade damage)

X028-FREEDOM (Unlimited energy, 40 HP regen per second)

Armor

Perseus Armor (HP, melee resistance)

Cygni Armor (Speed)


Thunder Armor (Power)


Atom Armor (Beam bonus)

Andromedae Armor (HP, regen ability)


Phoenix Armor (HP, Speed)
PvP
Playstyle (PvP)
Gold
Mithril
All-Purpose
NOVA-27
LIT07
CQC (Close Quarter Combat)
Morpheus
Trinity, Windblade
Heavy Duty
M-27B1
Laser Cannon
Long Range
R100-RAILGUN
R700-AA
Backpack
STK-06-ZZ

TRI-O-AVATAR (heavy damage negation)


HYD-00-IX (HP regen per second, damage immunity chance)


H.F-V-03 (HP regen for team)


JIN.JINGLE (Speed, Power, HP regen per kill, 10% chance to evade damage)


Spectre (15% chance to evade damage, +1.5 speed every time you get shot)

Armor

Perseus Armor (HP, melee resistance)

Cygni Armor (Speed)


Atom Armor (Beam bonus)

Phoenix Armor (Speed, Large HP regen per kill)

Pegasus Armor (damage immunity chance)


Andromedae Armor (HP, regen ability)
Ninth through to Final Rank Levels
PvE
Playstyle (PvE)
Gold
Mithril
All-Purpose
Crab, AST-KK
LIT07
CQC (Close Quarter Combat)
Morpheus, Spreader, Black Disk
Trinity, M-Z7B2 (buzzsaw), J.O.K.E
Heavy Duty
M-27B1
Laser Cannon, M-Z7B2, U.F.O
Long Range

R100-RAILGUN

R700-AA, Reflection

Backpack

ECO-03-VI (Gold bonus)


STK-06-ZZ (Speed/Power)

JIN.JINGLE (Speed, Power, Gold, EXP Bonus, 20 HP regen per kill, 10% chance to evade damage)


X028-FREEDOM (Unlimited energy, 40 HP regen per second)


D-WINGS (+2 Speed, +1 Speed on hit, Gold bonus, +50 HP per second, +15% POW.)

Armor

Perseus Armor (HP, melee resistance)


Cygni Armor (Speed)


Thunder Armor (Power)


Atom Armor (Beam bonus)


Knight/R.O.M.E Hybrid (Power, health)

Knight Armor (Heath, power)


R.O.M.E Armor (Health, power, speed, gold bonus)
PvP
Playstyle (PvP)
Gold
Mithril
All-Purpose
AST-KK
LIT07
CQC (Close Quarter Combat)
Morpheus, Spreader
Trinity (Broken), M-Z7B2 (buzzsaw), J.O.K.E
Heavy Duty
M-27B1
Laser Cannon, M-Z7B2, J.O.K.E
Long Range
R100-RAILGUN
R700-AA, Reflection
Backpack

STK-06-ZZ


Blademaster ( +1 spd, +40% sword dmg)

TRI-O-AVATAR (Ability: -85% damage taken)


JIN.JINGLE (+2 SPD, +30% POW, +20 HP regen per kill, 10% chance to negate damge)


D-WINGS (speed, +1 speed on hit, +15% POW, +50 HP per second)


Spectre (15% chance to evade damage, +1.5 speed every time you get shot)

Armor

Perseus Armor (HP, -30% melee damage)

Cygni Armor (+2 Speed)




Atom Armor (Beam weapon bonus +30%)


Thunder Armor (Ability +2 SPD, +50% POW.)

Knight Armor: (Very high HP and POW, +15% firerate.) 


R.O.M.E Armor: (High HP and POW, +2 SPD, +10% firerate.)


Andromedae Armor: (High HP, regen ability: +1 SPD, -30% damage, +10000 HP.)


Phoenix Armor (Approx. +25% HP regen per kill.)


Pegasus Armor (15% damage immunity chance.)


Black Hole Armor (extra power for sniper rifles, special ability)


X-Field Armor (Abilty to generate shield that converts damage into HP, Speed)


Wrath Armor (Ability to generate P2P force that pulls players toward you)
As of Version 2.81, all armours and weapons unlock at Rank 9