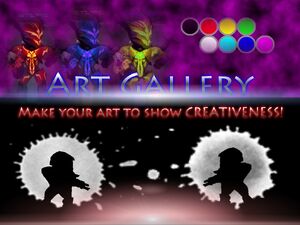 Please note that this article is more of a community page. Please redirect yourself to another page if you are looking for more info about the game.
Seeing how we've now got a growing collection of fan-made visual works and color edits (some of it uploaded here without the original creator's permission, unfortunately), this page is for users who wish to exhibit their creations in a gallery here.
The original designs of armors, weapons etc are Freyr's intellectual property. This page recognizes the efforts of players who have used these assets to derive another visual work.
If you'd like to show off your work, make a section and post it right here! Please ensure that you're only posting images that you made.
Please also be advised that unauthorized usage of parts of other artists' works is grounds for them to request derivative works to be deleted.
If you were looking for interesting-but-unedited photos from within the game, please refer to the Photographer's Club. If you're looking for wittily captioned images which aren't quite artworks without their words, please check out the Caption Corner.
Community content is available under
CC-BY-SA
unless otherwise noted.